Yoshis come in all sorts of colors, but Mario's close buddy debuted in green. Kind-hearted, naturally protective of others, and perpetually hungry, Yoshi is always up for adventure…especially if there are snacks involved. Yoshis can flutter their legs to jump incredibly high. They also have extremely long tongues that they use to snare fruit and even enemies—anything they swallow gets turned into throwable eggs.

---
Section 1: Character Overview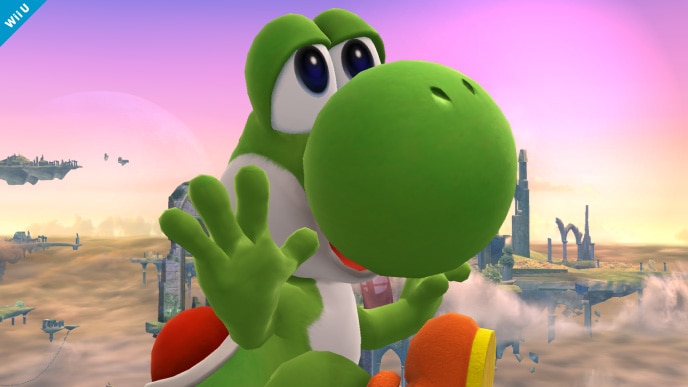 Yoshi is currently regarded as one of the worst amiibo in the competitive metagame. Whereas most low-tier fighters lack viability due to flaws in their AI, Yoshi suffers from no such issues: his AI is actually quite solid and knows how to perfectly balance melee and ranged attacks. Instead, it's Yoshi's character design that ultimately brings him down; his playstyle and moveset simply don't translate into an effective amiibo. Yoshi's main finishers, his forward and up smashes, are slow, predictable, and lack range; these traits extend to his jab, tilts, and grab as well. When it comes to getting KOs, Yoshi lacks options, and he often struggles to seal the deal even against heavily damaged opponents.
Fortunately, Yoshi has a few redeeming qualities that just barely make him worth your time and effort. His smash attacks, while slow, are moderately powerful and can potentially get a KO if timed just right. His recovery, which consists of his extended double jump and up special, is decent; Yoshi's neutral special also serves as a somewhat slow command grab that allows him to get free damage on opponents. Finally, Yoshi classifies as a heavyweight, meaning his in-battle durability is high relative to the rest of the Super Smash Bros. cast.
The Verdict
By all accounts, Yoshi is one of the most difficult amiibo to train. For him to succeed, he must play perfectly – there's no way around his flaws, which all stem from his incompatible character design. Raising a champion Yoshi requires excellent skill and patience regardless of your experience level.
---
Section 2: Recommended Equipment
Stats & Bonuses
For more information on equipment – including instructions on how to farm for custom parts – please read our amiibo equipment guide.
Most amiibo tournaments allow and encourage equipment. In fact, over ninety percent of competitions do – but if you'd prefer to forgo custom gear and leave your amiibo 'vanilla', you can skip this section. Otherwise, you will need to equip your amiibo with a viable setup of stats and bonuses. The following build has been extensively tested and proven effective:
+60 Attack / +60 Defense / 0 Speed
Custom Moves
Egg Launch: This is a custom move version of Yoshi's neutral special. It deals more damage and has less start-up lag, and the Yoshi Egg is fired away from the character. However, the egg itself is much easier to break out of. Since most amiibo run Improved escapability anyway, the egg's reduced durability isn't much of an issue. Egg Launch's faster start-up and launching utility are just too good to pass up.
Once your amiibo's stats, bonuses, and custom moves are refined and ready to go, your training will officially begin! If you encountered a problem while equipping your amiibo, feel free to join our Discord server to ask for help.
---
Section 3: Training Your Amiibo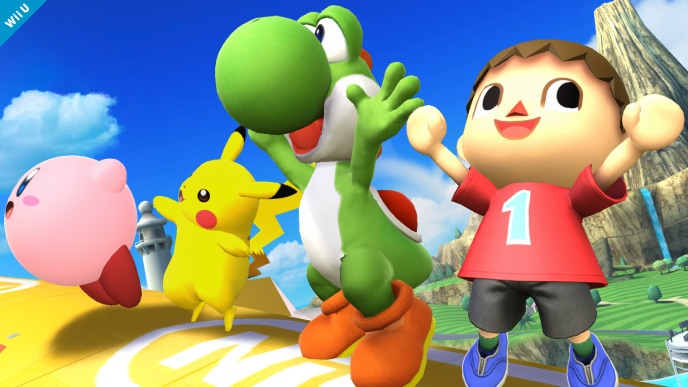 Amiibo training is a very specific task, and for the best possible result, you will need to approach it with caution. You can't just go all-out using combos and aerials: both are seen as "newbie tactics" by competitive trainers. Instead, you should remain grounded at all times, making sure to punish your amiibo for every aerial attack it uses against you. This is true regardless of whether or not your amiibo was fed equipment.
To help your amiibo properly utilize its moveset, you will mirror match it from Level 1 all the way to Level 50. Playing timed matches on Ω-form stages is highly recommended.
Training Tips (Equipment & Vanilla)
Neutral options: forward tilt, Egg Launch, and up special. Yoshi's forward tilt is his best standard attack. It's fast and deals decent damage, but lacks range. Egg Launch should be used very often, as its quick start-up and enhanced damage make it an effective option at close range. Yoshi's amiibo is extraordinarily accurate with Egg Throw – during training, encourage your amiibo to use this move at far range and against recovering opponents.
Main KO moves: forward smash and up smash. As mentioned before, Yoshi has immense trouble getting KOs. His forward smash is powerful, but has punishable ending lag and only hits directly in front of him. Up smash, on the other hand, is faster but deals less damage and has even poorer range. Rotate both of these moves as you see fit.
Moves to avoid: grab. Yoshi's grab is absolutely horrible. It's sluggish and brings him no notable benefits. Use Egg Launch instead – it's somehow faster (even though Egg Launch and grab both involve eating the opponent) and inflicts more damage overall.
Situational moves: down aerial. Yoshi's down aerial is the only aerial attack worth using. It deals over 30% of damage if all hits connect, and can pressure shields to the point of breaking them. Even with all of its advantages, it should be used infrequently. Prioritize forward tilt, Egg Launch, and Egg Throw at low percentages, and forward smash and up smash at high percentages.
When your amiibo finally reaches Level 50, its training will truly begin. Just like a real player, amiibo need match experience and practice against different characters. For more information on training your amiibo past Level 50, follow this link.
---
Section 4: Conclusion & Credits
Thank you so much for reading! Although the guide may be coming to an end, your training most certainly isn't: there's always a way to make an amiibo stronger, and yours is no exception. If you need additional help, check out the Amiibo Mechanics & Metagame Guide. If you want to ask specific questions, you can also stop by our Discord server.
If your desire to read amiibo training guides and articles hasn't been entirely fulfilled, there are more posts here that you might like. Amiibo Training Analysis analyzes a specific aspect of the metagame in great detail. Meanwhile, the official amiibo tier list ranks each amiibo's potential. The FAQ is another good resource worth checking out. Alternatively, you can head back to the master list of guides for even more amiibo training methods!
Images are courtesy of SmashWiki and the official Super Smash Bros. website.
---